Almost ready for school...
I'm taking up Computer Engineering in USC-TC (Talamban) and classes will be starting on June 9, 2008. I may say that I'm a bit excited but I'm also nervous being in a new environment, with new people. Considering my kind of "topsy turvy" schedule, I dont think I could adjust to it right away. Since first year is under block sectioning, we cant choose our schedule.
Yesterday, I went to National Bookstore to buy a couple of new things for school. 3 MixPrints Spiral Notebooks, 2 G-TEC Pens, Staedtler color pencils and a Pink Highlighter.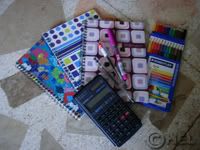 &nbsp&nbsp&nbsp&nbsp&nbsp